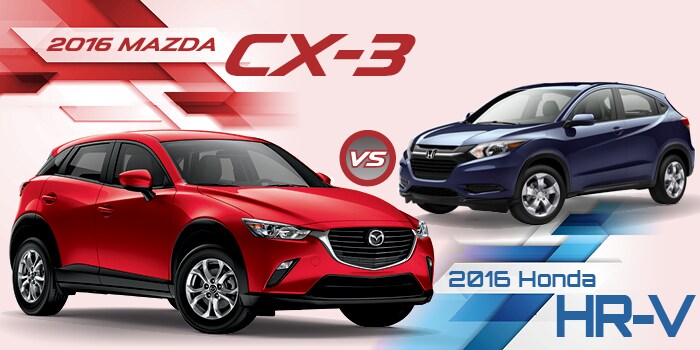 At
Grieco Mazda of Delray Beach
, our unbeatable team of
Mazda dealers
is excited to welcome the brand-new
2016 Mazda CX-3
to our showroom at
2001 South Federal Hwy in Delray Beach
.

 

This subcompact crossover SUV has many perks, including a great-looking interior and exterior, fantastic fuel efficiency, sublime handling, and plenty of high-end standard features and options.

 

However, it faces some stiff competition in its segment, particularly from the 2016 Honda HR-V.

 

So how do the two compare?

 

Let's find out!

In terms of technology, Mazda vehicles have always been on the cutting edge, incorporating the latest infotainment, functional, and safety advancements.  Honda does an admirable job of infusing its vehicles with next-generation tech, but in this particular case, the 2016 Mazda CX-3 comes standard with push-button start, a 7-inch touchscreen, and an infotainment system, along with several progressive safety systems including rear cross-traffic alert, lane-departure warning, and the state-of-the-art Mazda Smart City Brake Support system, which provides low-speed automatic braking and forward-collision warning.   The closest that the 2016 Honda HR-V comes is with its LaneWatch blind-spot camera.
If you're searching for an SUV that generously integrates advanced technology, then the 2016 Mazda CX-3 is the vehicle for you.  Visit Grieco Mazda of Delray Beach today for a full walkthrough and a test drive!
CLICK HERE TO SEE 2016 Mazda CX-3 INVENTORY >
Inside, the 2016 Mazda CX-3 and the 2016 Honda HR-V both have their strengths.  The 2016 Honda HR-V has earned plaudits for its storage capacity and roomy backseat, while the 2016 Mazda CX-3 has impressed industry insiders with its easy-to-use climate and infotainment systems, and its straightforward, uncomplicated approach to its sophisticated driver controls and in-cabin functionalities.  Moreover, the 2016 Mazda CX-3 is a big winner when it comes to interior style thanks to its generous usage of upscale materials and design elements. 
The 2016 Mazda CX-3 sublimely blends complex in-car technology with easy-to-use controls that are readily driver-accessible.

 

See this leading subcompact SUV's interior up-close when you visit Grieco Mazda of Delray Beach today!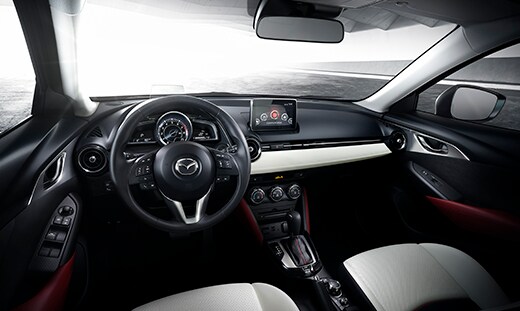 In terms of pure on-road performance, Mazda has a storied tradition of designing vehicles with superior handling, steering, acceleration, and power.  Honda vehicles are well-known for their reliability and resale value, and often offer respectable performance, but typically not at the level of a Mazda car or SUV.  Such is the case here, where the 2016 Mazda CX-3 offers a quieter ride than the 2016 Honda HR-V, along with better handling and steering, all of which make it one of the most fun-to-drive SUVs around. 
Visit Grieco Mazda of Delray Beach today and get a feel for the 2016 Mazda CX-3 model's exceptional on-road prowess!
Though both the 2016 Mazda CX-3 and 2016 Honda HR-V are solid choices in the subcompact crossover SUV category, the 2016 Mazda CX-3 is the better call because of its advanced technology, its beautiful, functional interior, and its all-around performance.  High-end cabin materials, next-gen safety and infotainment, and first-class handling and acceleration - it's all here in the 2016 Mazda CX-3.  Visit our new car inventory for more information on this brand-new subcompact crossover SUV, including pictures and pricing, and then visit our showroom for an in-person introduction!
CLICK HERE TO SEE 2016 Mazda CX-3 INVENTORY >